Cycle To Celebrate Together!
We invite all cyclists to experience the challenge of a great 30, 60 or 100 mile ride and the fun of a fabulous finish festival afterwards. Don't miss it - celebrate with us on Sunday, June 10th!!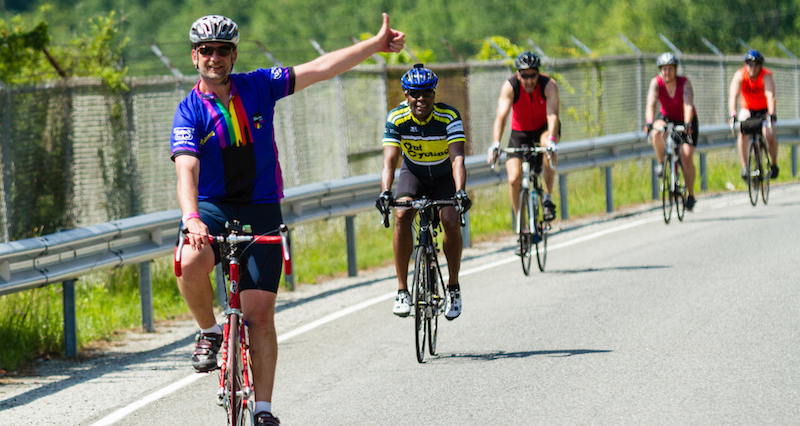 What To Expect
A fun and exhilarating day of cycling on the roads of NY and NJ plus a fabulous Finish Festival on Manhattan's Hudson Shore at Riverbank State Park. The day starts and ends on the Hudson Greenway at 145th st.
The Fully Supported Ride Includes:
Detailed cue sheets and marked roads
Four fully supported rest stops with food and sports drinks
Bike shop support and mechanics throughout the ride
Complimentary massages at the Finish Festival from our friends at MMX Body Works

Multiple support vans
A fun and food-filled festival with BBQ at the end of the ride
A group of over 40 volunteers ready to make your day fabulous!
NYC Pride Ride 2018 T-Shirt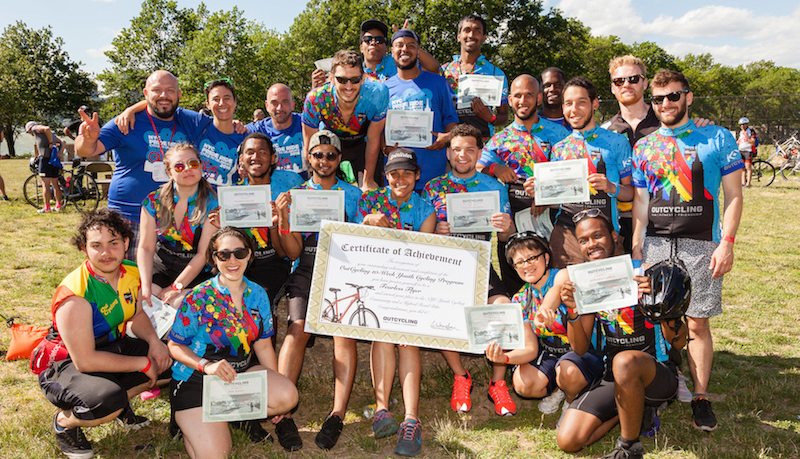 Help The Community As You Ride
A portion of our proceeds will go to the development of OutCycling's Youth Cycling Program, the Fearless Flyers, that teaches youth ages 16 - 21 cycling skills and provides graduates a free bike and safety equipment. The Fearless Flyers class of 2018 graduation ceremony will take place at the NYC Pride Ride festival!
Train For The Big Ride..
New this year - Sign up for a training series and be extra prepared for the NYC Pride Ride! Each series has rides of increasing milage and difficulty. From beginner to advanced rider, we have a series for you!

Check out this year's training series options:
Spring Training Series - Part 1 - The Spring Series Part 1 is ideal for recreational riders looking to get into great cycling shape. The series starts with a moderate 25 mile ride with increasing distance over the three weeks to approx. 50 miles. All rides have a volunteer lead and sweep and no one will be left behind.
Spring Training Series - Part 2 - The continuation of the Spring Training Series will take riders from 50 miles up to 100 miles including an option to summit Bear Mountain. All rides will have volunteer lead and sweeps and SAG support will be available.